Optimize Crop Yield, Water and Fertigation
More Informed Decisions With AquaSpy
We help you be the expert at what you do, growing food for people and feed for livestock. Our intelligent ag-tech solutions do more than monitor soil moisture, they show you how your plants are doing every day, every minute. Make informed choices about when/how to water and fertilize. Keep your plants from ever being stressed.

Pay As You Grow
Crop Health Monitoring on Demand
EASY, AFFORDABLE, HIGHLY ACCURATE
Crophesy Pay as You Grow From AquaSpy
The Crophesy Pay as You Grow system uses proven AquaSpy soil moisture sensors paired with an all new mobile app that lets Growers monitor their crops from wherever they are, providing advanced data analytics that are comprehensive but easy to read. Watch our video to see how Crophesy can work for any crop.
No other input is as vital to, or influences the production function like water. Our goal is to make sure that every drop counts; AquaSpy gives us this ability"
Harold Grall, TX
"I know where the roots are. The plant didn't starve for fertilizer and I watched the leached fertilizer move back up as the plant got larger and utilized it."
Jessi Blassi, KS
"I truly believe that the probes will pay for themselves in the first year of use simply with water savings and yield increases"
Bradley Colglazier, Bar-C Farms, KS
"It's very cool to be able to know just how effective I am when applying water, and to know I'm applying the right amount"
Tim Schmeeckle, Gothenburg, NE
"Our yields were on average 22% higher than fields without a system. We're planning on using AquaSpy on every field this coming season"
Chris Cogdill, Pinewood, SC
"AquaSpy provided me real-time plant data to tightly control my process and have a template that I can use in the future to maintain high yields"
Russell Hedrick, JRH Grain Farms LLC, NC
"Went with your solution as it's the only one that automatically updates templates; which is essential to grow soil moisture monitoring"
Tom Arens, ACC Farms, Nebraska

YES! Score takes the guesswork out of managing your crops.
Yield Efficiency Score (YES!℠) is the world's first scoring system to provide meaningful feedback to the grower about the effectiveness of their process control. Studies have demonstrated that the better the score, the more optimized the yield.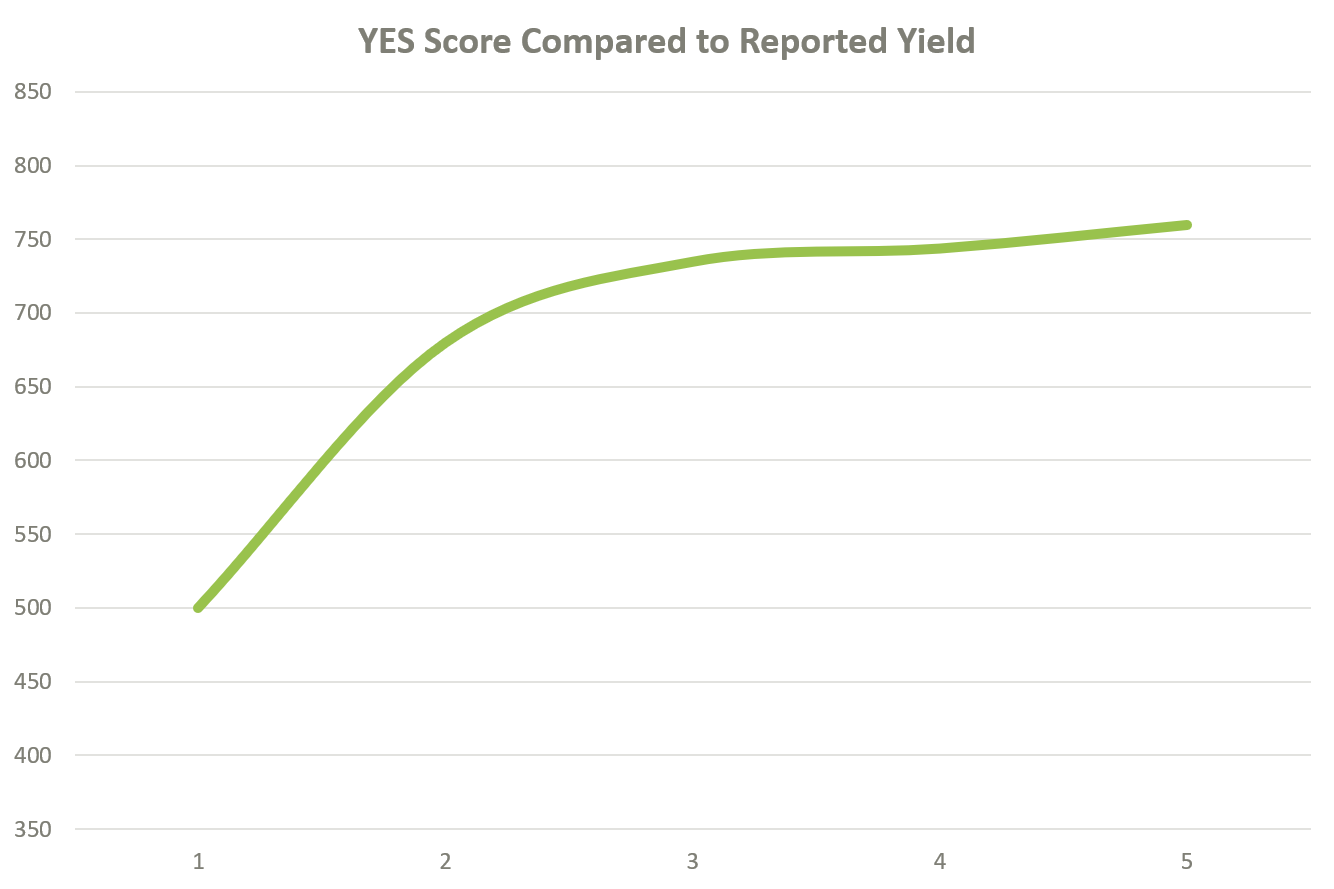 For over 10 years, we have gathered and analyzed soil profile data from our systems deployed in every major growing region of the US, and throughout the world. This massive repository of crop specific information on the way plants and trees really grow helps us profile every major commodity crop, and informs the way that we calibrate our systems for your crop in your field.
Increase Your Farm Profitability
Take the risk out of irrigation decisions so you can make more informed decisions that conserve inputs and optimize yields.
Crop specific.
Soil agnostic.
See the crop absorbing moisture layer by layer.
Demonstrated correlation between YES! score and yield.
Multiple university and field studies.