Better Industrial Hemp Farming Strategies
Industrial hemp, a crop grown historically for fiber, seed, oil and cannabidiol (CBD) oil, is the plant Cannabis sativa L.
Even though hemp and marijuana look similar and both come from the cannabis plant, industrial hemp has a very low concentration of delta-9 tetrahydrocannabinol (THC), the psychoactive ingredient in marijuana. Distinguishing industrial hemp from marijuana was the critical legal step that allowed hemp production to restart in the U.S. in 2014 after an almost 45-year hiatus.
The 2014 Farm Bill reintroduced industrial hemp production in the U.S. through a state pilot program. The 2018 Farm Bill defined hemp more broadly eliminating any question that both the plant and products derived from the plant are legal as long as the THC concentration does not exceed 0.3 percent.
On an annual basis, 1 acre of hemp will produce as much fiber as 2 to 3 acres of cotton and as much paper material as 2 to 4 acres of trees.
Hemp can be used to create fiber boards that are both lighter and stronger than wood.
Hemp seeds are extremely nutritious and contain high levels of calories, minerals, fatty acids, and vitamins A, B, D and E. The seeds are also healthy meat alternative as they contain the daily protein requirement.
As hemp grows, it helps purify the soil by absorbing harmful chemicals and toxins.
Hemp can grow in all 50 states.
The original U.S. Constitution was written on hemp paper.
China is the world's top hemp producer. The country produces 44,000 metric tons annually. China began using hemp in 100 B.C. to make paper.
In the U.S., Colorado is the largest hemp producer at 52,275 acres. This is followed by Montana at 45,000 acres, Kentucky at 26,500 acres, California at 21,844 acres and Oklahoma at 21,635 acres.
Hemp originated in central Asia. From there, it spread to Europe, Africa and South America where seeds and oil were used for pottery and food.
In Hindu religion, hemp was considered a gift, known as "sacred grass."
North America discovered hemp in 1606, using it as a key ingredient to make clothes, shows, ropes, paper and food.
There are more than 50,000 different uses of hemp in the following 6 categories: textiles, industrial textiles, paper, food, building materials and body care.
Hemp grows best in loose, well-drained, loamy soil that is rich in organic matter.
Hemp prefers soils with a pH of between 6.0 and 7.5.
Hemp is sensitive to soil crusting or soil compaction, which can occur in heavy clay or wetter soils.
Hemp grows best in a mild climate and humid atmosphere.
Farmers usually plant hemp between March and May in the Northern Hemisphere and between September and November in the Southern Hemisphere.
Hemp takes 3 to 4 months to mature after planting.
Hemp requires good soil moisture for seed germination and until young plants are well established.
Industrial hemp is an extremely efficient weed suppressor.
Hemp grown for seed is ready to harvest between 105 and 115 days after planting.
Farmers can expect grain yields of 1,000 pounds per acre.
Hemp fiber sells for approximately $260 per ton. Crops can yield anywhere between 2.5 to 3 tons per hemp fiber per acre. This means after costs farmers can make $480 per acre in profit.
The industrial hemp growing markets
The U.S. industrial hemp industry revival started slowly, but then quickly picked up pace. In 2014, only four states, (Colorado, Indiana, Kentucky and Vermont) reported planning hemp on 1,866 acres. Even though additional states had regulation and licensing procedures under development, they couldn't pass legislation and establish acres. As a result, Colorado accounted for 97% of the acreage.
Commercial hemp production was legalized again by the 2018 Farm Bill. In 2018, 22 states reported planting over 90,000 acres of industrial hemp.
U.S. industrial hemp acreage reported by state pilot programs increased from zero in 2013 to over 90,000 acres in 2018, the highest acreage since 1943, when 146,200 acres were planted.
The global industrial hemp market size was valued at $3.61 billion in 2020 and is expected to expand at a compound annual growth rate of 16.2% from 2021 to 2028. The growing demand for industrial hemp for its dietary benefits in food and beverage products will drive demand, experts predict.
Industrial hemp farming challenges
Industrial hemp growers face quite a few challenges specific to this crop.
It starts with seeds and clones. Farmers need to find clean seed with a high germination percentage, and that wasn't always available in 2019.  If the crop produces a plant with over .3 THC limit, it is considered marijuana and cannot be used. Also, poor seed had higher reports of poor root development and pest infestation. Experts recommend growers find a reputable provider.
Hemp grows in temperate, subtropical and tropical climates, generally preferring a mild climate and moderate humidity. Hemp requires more water and nutrients to grow than grain crops – roughly 12 to 15 inches of water per each growing season. Also, the better the soil, the better the yield.
Typically, farmers grow 1,000 to 1,600 plants per acre for CBD and 400,000 per acre of traditional hemp grown for mass market products.
Growers continue to face challenges in managing weeds, pests and diseases with this crop. With each year of production and research, more management tools are being learned and developed. Experts recommend growers scout their fields and stay aware of current research to become familiar with problems and solutions.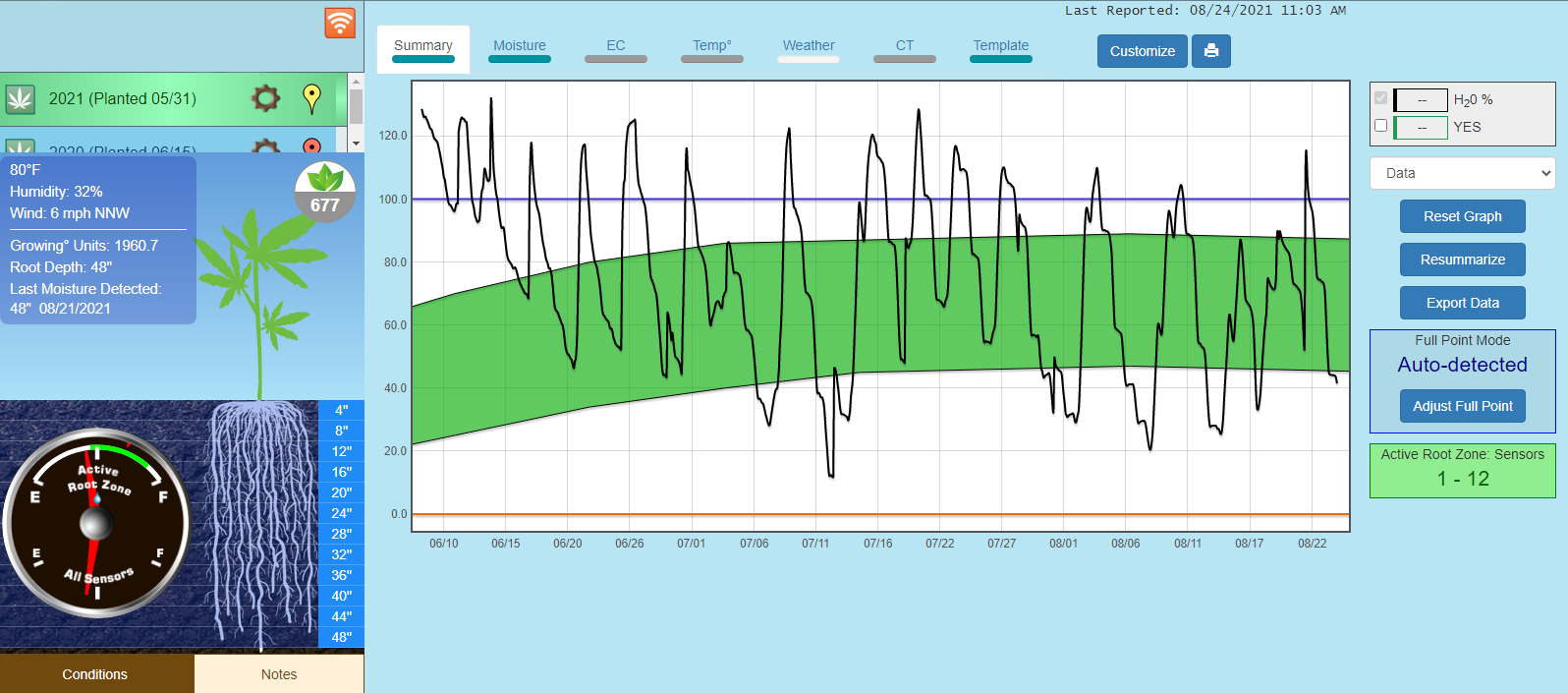 AquaSpy Crophesy for hemp
With a Crophesy monthly app subscription, you receive a free simple, three-sensor, wireless, soil moisture probe. Place these rugged, water-tight probes throughout your industrial hemp field and connect them to the app via your smartphone.
Then you can instantly monitor soil and crop health for all of your industrial hemp. And if you want to test the soil in other areas, you can quickly and easily move the moisture probe, which is battery-powered and provides season-long insight.
While you can look at the visual analysis of leaves, spending hours in your field, Crophesy enables you to open your app from anywhere and show you what kind of nourishment is available in your soil at your industrial hemp crop root depth. With this data, you can determine when the active root zone needs vital nutrients.
In addition to nutrient data, the Crophesy app can show you:
Moisture consumption at the root level
Salinity level in the active root zone
Root depth
Soil temperature near the sensors
Irrigation depth
And it tells you all this without you having to step foot in your industrial hemp field.